e-Transfer Deposit Casinos in Canada
e-Transfer At A Glance
| | |
| --- | --- |
| Deposits | Yes |
| Withdrawals | Yes |
| Fees | None |
| Payout Time | 1-3 days |
Interac e-Transfer is one of the most popular banking methods available at online casinos in Canada. This local banking method has proven to be simple, reliable, cheap, and fast. While there are many ways to explain what it is and how you can get started with it, we've opted to provide you with an intricate guide that explains what it is, gives you some history behind it, as well as additional information regarding the best e-Transfer casinos, and how to find them.
Online casinos started offering eTransfer in late 2018 and it was a very welcome addition indeed. It took a while for many casinos to come on board but now it is a standard payment method for nearly every online casino that caters to the Canadian market. Please not that e-Transfer differs from Interac Online casinos, which is only available at a few Canadian banks.
Best e-Transfer Casinos
If you're looking for the best e Transfer online casinos in Canada then there are a few things that you'll need to pay attention to when making the decision. While every casino is different, there are standards and laws that each Canadian real money online casino that accepts e Transfer must adhere to, or else its operating license will be revoked. There are also casinos out there that aren't what they claim to be and they usually do more harm than good, such as refusing to assist you or not paying winnings that you've legally earned.
Below you'll find some of the most important factors to consider when choosing an online casino Canada e Transfer option.
Licensing
Licensing is the most important factor to consider as it determines whether an online casino is legitimate or not. Some casinos have attempted to fake licensing certifications, but they're usually caught before going live. Canadian casinos usually have up to three licenses and these are from the Kahnawake Gaming Commission, the Malta Gaming Authority, and the UK Gambling Commission. All of these are extremely reputable licensing authorities and they enforce the highest standards.
Third-Party Auditing
To ensure that the games you're playing are fair, third-party auditing agencies step in and test the software that's provided by the casino. If it passes, the casino will display a certificate of approval from the agency, and that means that the games you're playing are fair and you're not being scammed.
Customer Support
An overlooked feature of e transfer casinos, customer support is an integral part of your gaming experience. The casino might offer the best selection of games you've ever seen but if the service is bad then it counts for nothing. An online casino that offers 24/7 support with a variety of methods you can use to contact them is what you're looking for.
Game Selection
The main reason you're reading this guide in the first place, game selection is vital, and most eTransfer casinos overwhelm us with hundreds of slots. And while they're great, it's nice to have a change of pace and play a table game or even a scratch card. Most Interac e Transfer casinos in Canada have a balanced selection of games from slots to bingo, all of which are provided by the best software developers.
Online Casinos that Accept Interac e-Transfer
Interac e-Transfer casinos are quite popular as the best of them offer the banking method as a form of making a deposit and sometimes withdrawal. Below we've listed some of the best online casinos that accept e Transfer, and some basic information about them.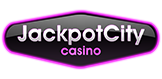 Arguably, ranked as the number 1 e Transfer casino Canada, Jackpot City features a modest selection of just over 640 games along with a variety of titles from slots to roulette. The welcome bonus is a 100% deposit match up to CA$1600 and it's available on mobile and desktop.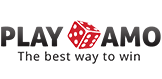 If you're looking for a great online casino e Transfer option that has over 3000 games then Playamo is the one for you. The games come in a variety of categories such as slots, table games, and a live casino. The bonus is very good too, as you'll receive a 100% deposit match up to CA$1500.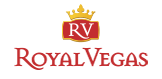 This Microgaming e Transfer casino features over 700 games courtesy of Microgaming with a great bonus that consists of a 100% deposit match up to CA$1200. Royal Vegas also features an easy to understand loyalty program and a variety of gaming categories such as live casino, poker, table games, and slots.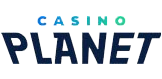 One of the newer sites that accept e Transfer, Casino Planet features a great design and user-interface that's easy to navigate. This is paired with a great welcome bonus that consists of a 100% sign-up bonus up to CA$300 and 200 free spins. Casino Planet also has an extensive collection of games that are guaranteed to keep you busy for hours.
How to Deposit with Interac e-Transfer at the Casino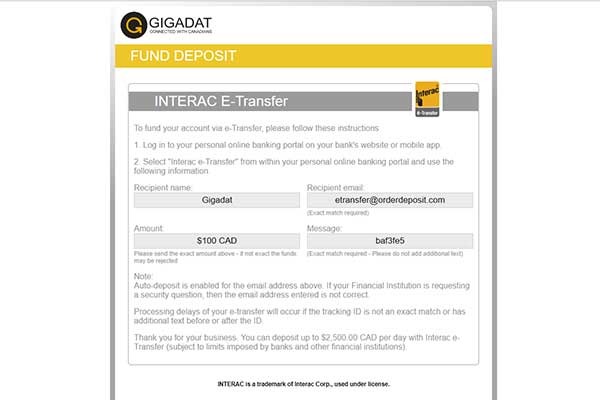 E-Transfer deposits from your bank account are one of the easier banking options to use as they can be done in 3 simple steps which will be explained below.
Login to your banking app or online bank account and select it.
Choose the recipient's email or contact number.
Enter the amount you'll be depositing along with the security question; however, with casinos, the security question won't be necessary as it will be registered for Interac e-Transfer.
And that's all you'll need to do, 3 simple steps to get you started on any eTransfer casino.
You will note that Gigadat Inc is the third party provider that processes all e-Transfer payments for online casinos in Canada.
Detailed e-Transfer Casino Deposit Guide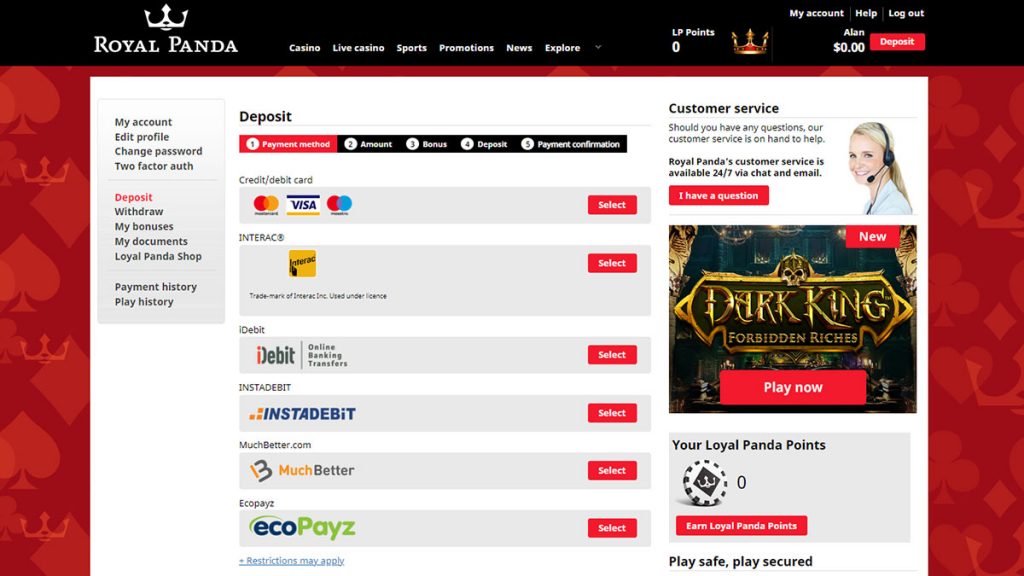 Go to the deposit screen of your online casino.
You will see the deposit methods for the casino listed
Select Interac. Note the choice for e-Transfer will come in the next steps.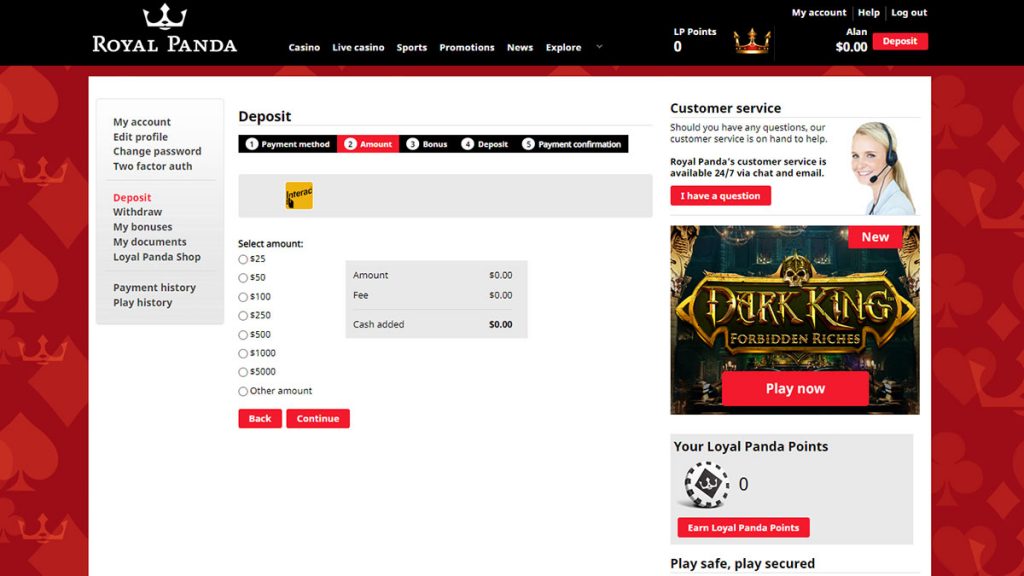 You will be shown a screen to enter how much you would like to deposit
Choose one of the CAD amounts listed or select "Other Amount"
Press continue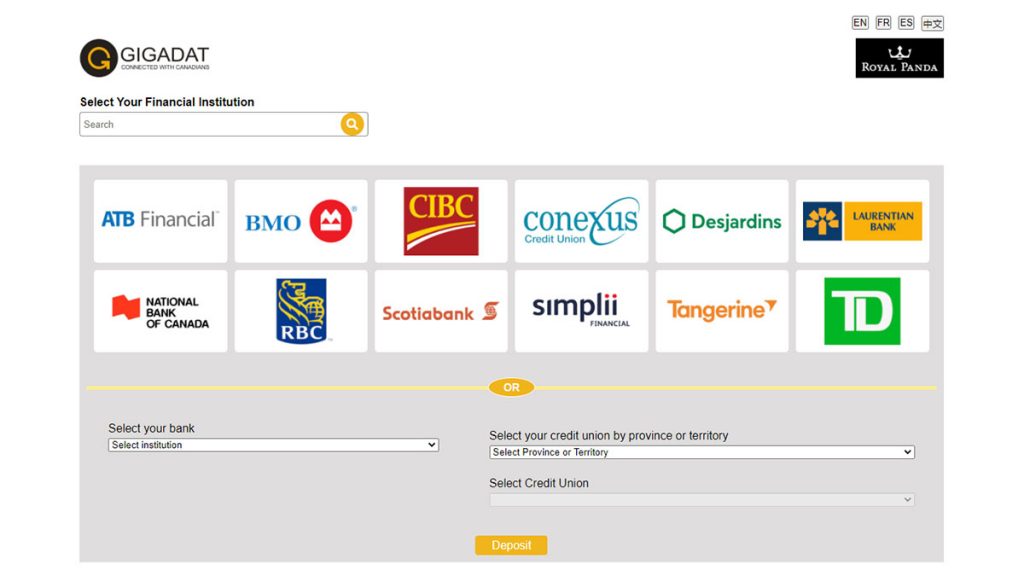 You will now see a list of financial institutions so go ahead and choose your bank or credit union
If you bank logo is not shown you can use the "Select your bank" dropdown
If you use a credit union you can choose the drop down for credit unions
Click the deposit or continue button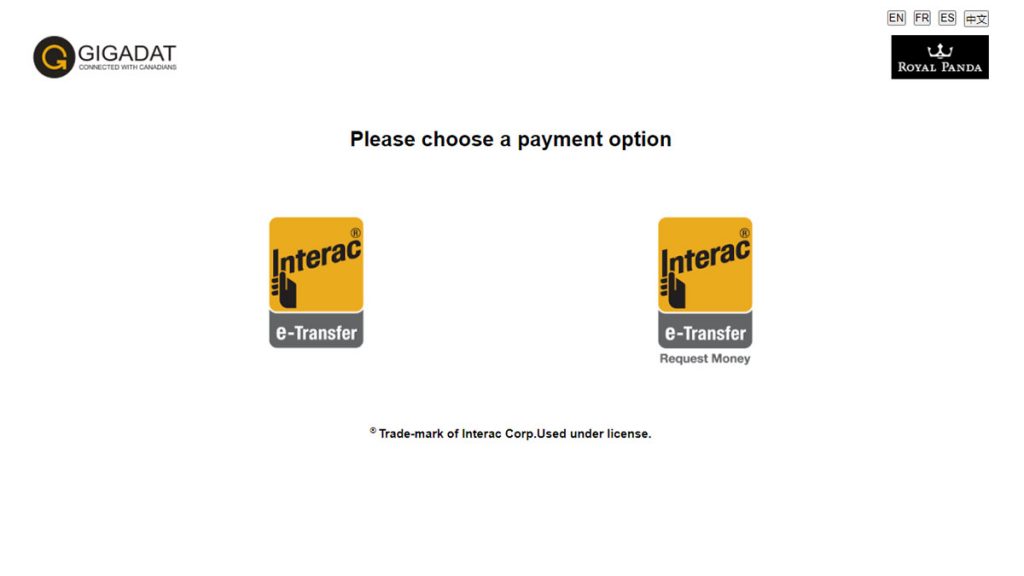 If your bank only supports e-Transfer and not Interac Online you will see two option, e-Transfer and e-Transfer Request Money
Select e-Transfer. Note Request Money is used for withdrawals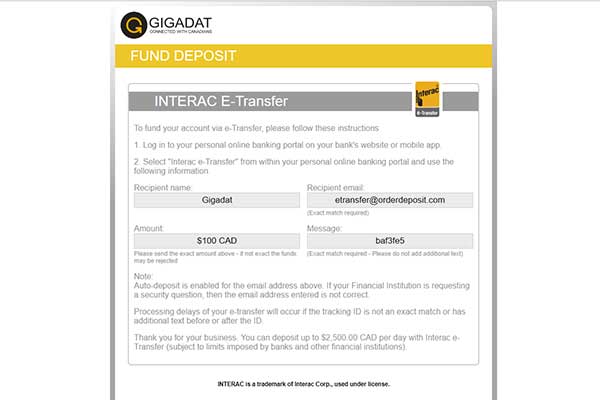 You will now be given information you need to make a deposit with e-Transfer which you need to have with you as you go to your banking portal
Note the recipient email and message code as they will be needed to send the e-Transfer
Now go to your bank portal and login and follow the normal steps to send an e-Transfer as outlined below
How to Withdraw with Interac e-Transfer
E-Transfer withdrawals are quite simple; all you need to do is ensure that the withdrawal is approved by the casino. Once this is done, a text will be sent to you that contain a password, along with an email stating that the funds are ready to be withdrawn. In the email there'll be a link that you'll be able to click on that will redirect you to the page that will deposit the funds into your bank account.
If you're not getting any emails from your e Transfer withdrawal casino, be sure to check your spam folder, as these kinds of emails usually end up there. There's also an auto-deposit feature that'll allow you to have the funds transferred directly into your account. The processing period for the funds takes up to 3 business days, which is quite good when being compared to other banking options, but it's still slower than Interac Online.
Interac e Transfer Casino Fees
Essentially, there's no fee for using this service when making deposits via your online banking account; however, banks reserve the right to change the cost of their service plans at any moment, so be sure to keep track of that. If your bank doesn't offer the service and you don't have online banking, then you can take an alternative route and have the money deposited into any Canadian bank account on the condition that you provide your banking details, this usually costs around CA$4 and it takes up to 6 business days for the transaction to process.
Interac e-Transfer is quite cheap to use and this is one of the factors that make it a great banking option when playing at an e-Transfer casino in Canada.
What is Interac e-Transfer
Formerly known as Interac Email Money Transfer, Interac e-Transfer is a financial service that allows you to transfer funds safely and quickly between personal and business accounts. This service has been operating since 2018 under the Interac Corporation and had initially been provided by a company called Acxsys before it merged with Interac. Interac e-Transfer is widely supported by financial institutions in Canada and has built a solid reputation for being a reliable banking service.
There are plenty of similarities between e-checks and e-transfer, and the process in which money is transferred is simple yet extremely effective. But unlike e-checks, the funds are guaranteed as they're drawn from one account to be sent to another. However, there have been reports of attempted phishing, and this is one of the reasons why it's best to enable the auto-deposit feature for this banking method.
How to set up an Interac e-Transfer
If you're looking to play at an Interac eTransfer casino, setting up to use Interac e-Transfer is a relatively straightforward process. However, you'll need to ensure that your bank offers it as a banking service. To get started, you'll need to register on the Interac Transfer Site and enter your banking details, this process will only need to be done once. The information needed is your account number, institution number, and transit number, which is necessary to accurately deposit money into your account.
Other information will include your basic information such as your residential address, full name, date of birth, telephone numbers, and personal identification number. You can also opt to use a credit card as a form of identification; however, you'll need to provide a valid Canadian credit card number for it to work, it will also only be used for ID purposes and not for funding your Interac transactions.
Before the completion of your registration, you'll need to create a unique username and password, and these will be used to receive funds.
What Banks Accept Interac e-Transfer?
Most Canadian banks accept Interac e-Transfer especially the major ones such as the Bank of Montreal, President's Choice Financial, RBC, TD Canada Trust, Scotia bank, and Tangerine. What makes this such a significant factor is that you'll never have to worry about having any issues regarding the approval of your transactions, which makes this a prime banking method for playing on e-Transfer casinos. We would list every financial institution that accepts this method but there are over 250 of them.
Is Interac e-Transfer safe?
While there have been some safety concerns in the past, Interac e-Transfer is 100% safe to use with any real money online casino in Canada. Security questions paired with state-of-the-art anti-fraud technology makes it safer than ever, and due to it being a Canadian banking method, it's significantly safer to use than other methods such as Neteller or Western Union. One of the key security features is that you won't be able to copy and paste a password on a computer; you'll have to manually retype it, mention it to the teller in person, or write it down.
A Word on e-Transfer scams
e-Transfer is a highly secure financial transaction but that does not mean that you cannot be scammed out of money. There have been reported cases of e-transfer scams mostly involving transferring money to unreliable sources. Be assured that the third party payment processor, Gigadat Inc, and the casinos themselves are highly trustworthy. However, you must only transfer funds according tot he instructions on the deposit screen. Do not take any instructions via email or phone because online casinos will never request funds that way.
You should also note that there have been some scams reported on incoming e-Transfers. This has not happened in the online casino industry but malicious buyers of goods have been known to use fraudulent techniques to reverse the payment. Sellers have received funds in their account but a fraudulent report was filed by the buyer and the bank has the power to reverse an eTransfer payment, even though it shows up in your account. These instances are very rare but you should be generally aware of them.
You also need to ensure that you keep all your financial information private. You are responsible for protecting your transactions and ensuring that other individuals do not have access to your financial information, including passwords. Note that online casinos will not request your password for an e-transfer. You log in to your online banking independently and only use the information they provided. A cybersecurity expert Claudiu Popa put it this way:
Whenever you have a financial process that is very convenient you can expect it to get exploited by malicious individuals."

Claudiu Popa
What Makes Interac eTransfer the Best Choice for Canadians?
Interac e-Transfer is used by thousands of Canadian players everyday and it's one of the most trusted banking methods available. The convenience of it being supported by almost all major banks makes it easy for you to enjoy extremely fast bank transfers at a low cost. Apart from that, any electronic transfer casino worth its salt will offer this option to the CA market. Furthermore, you won't have to forfeit any bonuses and there is no menial extra sign up procedures to endure.
Interac e-Transfer is easy to sign up with, easy to use and has few disadvantages. Speaking of which, even though Interac e-Transfer is more popular than Interac Online, it's not as fast when it comes to transactions and there have been a few security issues that had to be rectified in 2019. Overall, it's a solid banking method that should be used if you're looking for an easy to use alternative to Interac Online.
Interac e-Transfer Casino Deposit FAQ
Do all casinos accept e-Transfer?
Unfortunately, not. However, not all sites are regarded as Interac e Transfer casino Canada options, but most reputable online casinos in Canada do accept Interac e-Transfer as a means of payment.
How do I know if an online casino offers e-Transfer?
An online casino that offers Interac e-Transfer will clearly state so either in the FAQ section or within the terms and conditions of the site.
Is Interac e-Transfer the same as Interac Online?
No, it isn't. Interac e-Transfer works with the email address of the recipient with a security question, whereas Interac Online transfers funds from one account to the other.
What to do if I have problems with my online casino Interac e Transfer deposit?
The best step to take is to request assistance from the customer support team at e transfer deposit casinos. If that approach fails, then you'll need to contact your bank.
Do I get a bonus if I deposit with Interac e-Transfer?
Yes, if you use Interac e-Transfer to make a deposit you'll still be eligible to claim your casino bonus.
Which banks allow online gambling payments with Interac e-Transfer?
Nearly all banks and credit unions offer e-Transfer as long as you have online banking.