Canada's Popular Gambling Regions
Gambling in Canada
A Comprehensive Guide to Gambling in Canada By Region. Canada has a unique combination of rural charm and urban modernity. Many provinces and territories in Canada now have their REAL Money internet casinos. It is permissible to gamble on these platforms. Canadians are also free to play at online casinos run by corporations outside the country. Despite the allure of money, Canadian residents and policymakers have maintained a balanced approach to online gambling.
The term "grey area" is frequently used to describe online gaming in Canada. Betting over the Internet is not illegal in Canada, but it does require a service to be licensed or controlled by a regional government to be considered legal. Despite this, over 1,000 unlawful offshore sites continue to sell services to Canadians.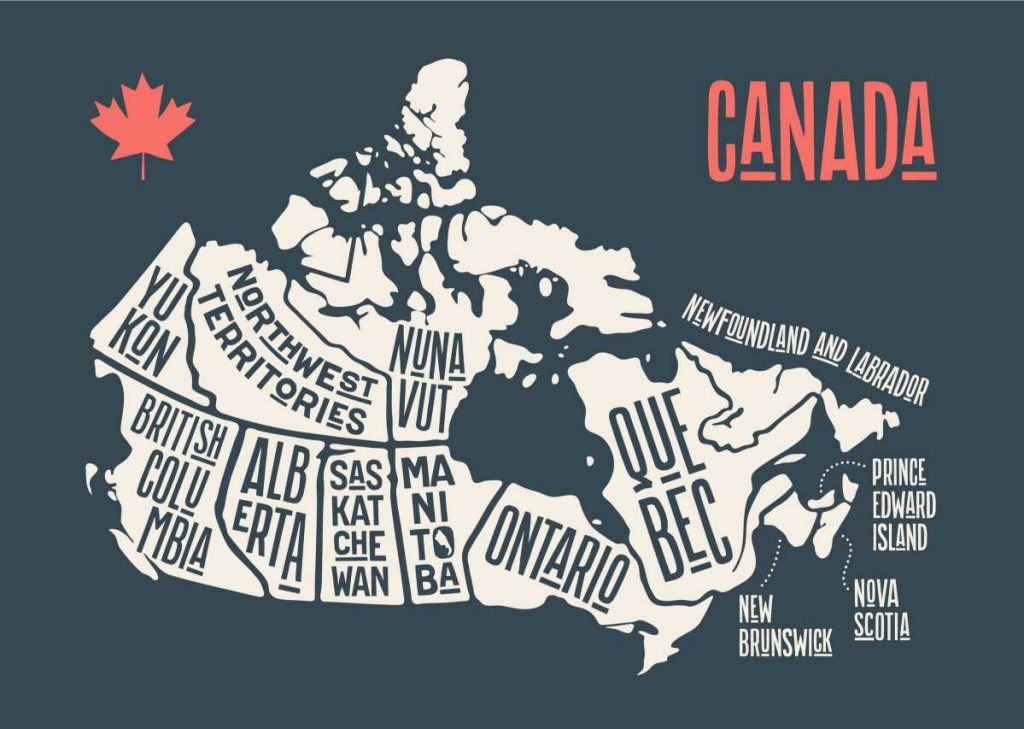 Gambling Online by Regions
---
We'll look at the current gambling legislation in each of Canada's provinces and provincial territories in this part, with a focus on how they affect the average citizen.
---


Over 90% of people in Ontario are within each distance of a regulated gaming institution. Slots are popular, and most online casinos accommodate various themed slot games. Online Sports betting is also legal. Toronto is the major gambling market in the region.
Ontario Online Casinos are now fully regulated
The future of gambling in Ontario has arrived. gamblers can wager on casino games and other activities through online websites or smartphone apps from operators registered with iGaming Ontario as part its provincially regulated market! Twenty-five companies were approved by Friday April 4th 2022 to provide these services.
---

Gambling in Toronto

Are you ready to get started at one of Toronto's online casinos? In comparison to Toronto's land casinos, the online casino network in Toronto is flourishing, with lots of benefits. Every day, Toronto's online casinos provide complete tournament programs, live video, and large jackpot pools. Rules & regulations as applicable to gambling in Ontario are valid here.
---


Gambling revenue makes for about 4% of their budget, which is the highest of any province in the country. When it comes to online casinos and sportsbooks, residents of Alberta have no restrictions. Calgary and Edmonton are major gambling markets in the region.
---


For gamblers in Canada, Montreal offers a plethora of options. Barbotte, poker, roulette, banker's craps, and chemin de fer were all popular games in Montreal in 1945. The advent of online gaming in recent times has brought back these games to the residents of Montreal to enjoy. Playing at online casinos operated by companies based outside of Canada is legal.
---


Quebec has allowed legal games of chance to be played since 1970. Residents can play at any online site that allows them, including the government-run Espacejeux. It may change soon, as the Quebec government threatens to deny access to online gaming sites not approved and licensed by Loto-Quebec.
---


The British Columbia Lottery Corporation's PlayNow is the province's only regulated and licensed gaming platform. It is still legal to play at offshore online casino sites.
---

Gambling in Manitoba

Manitoba Liquor & Lotteries Corporation regulates gambling in the province. Residents can use PlayNow, a BC-developed online gaming service. Since 2013, Manitoba joined an access alliance that allows residents to play at offshore gaming sites from Manitoba.
---

Gambling in Newfoundland

Gambling options in Newfoundland is limited. However, residents of Newfoundland and Labrador are welcome at the best online casinos run by operators outside Canada.
---

Gambling in New Brunswick

In New Brunswick and Canada, the Criminal Code is the ultimate regulation governing gambling. Under its statute, particularly section 207, the province is free to organize and operate lottery systems and games on its own.
---

Gambling in Nova Scotia

Nova Scotia provincial government runs its gambling website. It is managed by the Atlantic Lottery Corporation, which offers a variety of gambling options such as lottery games, bingo, and limited sports betting.
---

Gambling in Prince Edward Island

Prince Edward Island has the authority to enact its gaming legislation. Online gaming is, fortunately, legal here. Today, Prince Edward Island has a plethora of great online gaming sites. Almost all of these sites are completely secure.
---

Gambling in Nunavut

Nunavut is subject to the same general internet gambling rules as the rest of Canada. Online gambling is legal even though Canada does not permit private businesses to operate internet gambling on its soil.
---

Gambling in Saskatchewan

Saskatchewan residents has access to a plethora of online casino games. Sports betting is quite popular in Canada, and Saskatchewan surely has its significant share. Saskatchewan's casino business is thriving, but it didn't emerge overnight. The sector has a long history dating back to the 1970s.
---

Gambling in Vancouver

If you want to play online gambling in Vancouver, you'll have several choices. Vancouver, which is home to many ground casinos, offers online casino players access to some of the best online casinos. You can have the opportunity to participate in a truly unique gaming experience if you choose to gamble online in Vancouver.
---

Gambling in Yukon

Yukon isn't known for being a significant gaming destination. However, some of the locals still enjoy placing bets on occasion. The Department of Community Services' Professional Licensing and Regulatory Affairs Branch is in charge of overseeing all gaming activities in the city.
---

Gambling in Calgary

When it comes to finding a great online casino in Calgary, players are loaded with choices. Rules & regulations as applicable to gambling in Alberta are valid here. Calgary online gaming offers a truly interactive online gaming experience, high safety and protection, and unrivalled ease. They provide additional deposit and withdrawal choices, large bonuses, and financial flexibility.
---
Best Places to Gamble in Canada
It is confusing where to start as there are multiple provincially managed casinos, sovereign gaming commissions, and other internationally regulated sites. Relax, we have curated a list of the best places for online gambling in Canada based on reputation, game choices, bonuses, and user experience.
Placing Sports Bet Online in Canada
The federal government authorized single-game sports betting as recently as 2021. Following this, seven Canadian provinces – Ontario, British Columbia, Newfoundland and Labrador, Prince Edward Island, Manitoba, and New Brunswick – announced the establishment of new regulated single-event sports betting markets.
Sports betting fans in BC, for example, can now bet on events like the Super Bowl, Stanley Cup, or NBA Finals, and the BC Lottery Corporation is now allowing individual event wagers. Meanwhile, the Proline+ platform of the Ontario Lottery and Gaming Corporation now offers single-event betting, allowing customers to wager from their mobile, tablet, or laptop.
Playing at Licensed Online Casinos in Canada
Canadians adore internet gambling, to the point where provinces are attempting to join in. The PlayNow website is run by British Columbia. It's a website where you can place bets on casino games and play poker online.
The province of Ontario is trying hard to update its gaming business by launching its online casino and poker site. You must be a resident of the province hosting the games if you wish to bet in Canada at one of these provincially regulated online casinos. Fortunately, there are a plethora of possibilities that are governed by international gaming authorities.
Alternate Options for Online Gambling
Sports betting and casino games are the most popular among Canadian gamblers. A significant segment of the population also prefers to participate in online bingo and lottery games. As a result, many offshore operators have mushroomed offering online services to Canadians. Before playing online at such offshore platforms, check for their regulatory bodies.
For example, The Kahnawake Gaming Commission is responsible for licensing and regulating gaming and casino-related activities within and outside the Kahnawake Mohawk Territory. Online casino licenses from Malta, Gibraltar, and Antigua, ensure trustworthiness and denote a reliable offshore site for Canadians.
Accepted Modes of Deposit & Withdrawal for Online Gambling in Canada
When picking an online casino, one of the most crucial factors to consider is the payment choices available. Popular options like Visa, Mastercard, Interac, INSTADEBIT, iDebit, EcoPayz, Trustly are some of the most preferred modes of payment by Canadians at any online casino.
Meanwhile, popular banking options like PayPal, Skrill, Neteller are not suitable for online gambling in Canada, either due to very high transaction costs or unserviceable areas.
Responsible Gaming Resources for Canadians
If a player is on a verge of addiction to gambling, there must be a way to resolve it on their own. Among the online casinos suggested here, all current and new casino accounts may be frozen for six months. Online casinos can also provide a 24-hour to 7-hour cool-off period if a player does not require their account to be locked. Setting deposit limitations is another technique for a player to keep track of their gambling habits. A player can also specify how long they want their account to stay locked with the casino.
Frequently Asked Questions (FAQs)
What is Gambling by Region in Canada?

Gambling laws differ throughout Canada's provinces and territories. Regional casinos in Canada are run by provincial governments. Therefore, rules and regulations specific to gambling may vary across provinces. This is what we commonly refer to as Gambling by regions in Canada.

Do I need to pay tax on my winnings?

Winnings are tax-free in Canada, thanks to consumer-friendly legislation. You are free to have as much joy as you want while keeping every penny you have earned.

Do online casinos offer play in Canadian Dollars?

Yes, the best online casinos in Canada allow Canadian currency deposits (CAD). You only need to choose your preferred payment method and you are on the go.

Are Canadians allowed to play in international online casinos?

Yes. There are no regulations barring Canadian online gamers from accessing overseas gaming sites. Because there are so many players competing in games like online poker, baccarat, slots, craps, video poker, roulette, blackjack, and other casino games, many of these offshore platforms target Canada as a potential market.

Does a player have recourse if they suspect unfair activity?

Yes. Players can alert

eCOGRA

or the licensing organization for any online gaming site where they suspect unfair behaviour in addition to the Canadian Gaming Association and their local governments. Players have recourse, and sites must verify that they are not engaged in any alleged behaviour to maintain their licenses and maintain a good reputation with the worldwide industry.
---